Window Treatment Manufacturers
Well-designed window treatments do more than simply cover a window. At Hunter Douglas, form and function are inseparable.
Great design is beautiful to live with, provides variable light control, insulates rooms against heat and cold while saving energy, protects your furnishings from damaging UV rays, and even absorbs sound, improving the acoustics in a room. And, our advanced operating systems make using our products a pleasure every day.
Now that's artful window dressing. Lifetime guarantee.
---
Carole Fabrics
Carole Fabrics has proudly served the interior design community for more than fifty years. We take pride in our reputation of exceptional quality, a constant awareness of fashion trends, and a devotion to unsurpassed service. Moreover, we're committed to our age-old promise – providing handcrafted window treatments shipped in 10 days or less.
Carole Fabrics resides in Augusta, Ga. Our national complex houses a state-of-the-art workroom, distribution centers, and customer assistance facilities.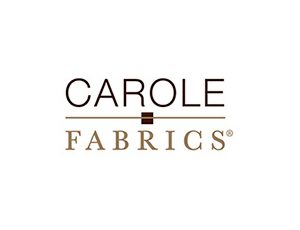 ---
Kasmir Fabrics & Furnishings
It's a simple premise — extraordinary products, a commitment to our customers, and a flair for design. The fabric of Kasmir Fabrics + Furnishings is woven with success and service. For almost half a century Kasmir has been a trusted international resource to the interior design community. In showrooms across the country, and from our 200,000-square-foot state-of-the-art facility in Dallas, Tx, we offer one of the industry's most extensive inventories of fabric and trims. We proudly serve designers around the world from start to finish.